Since half term we have been busy learning how to describe our appearance.
We have practised our colours and learnt to sing heads, shoulders, knees and toes  (and various other body parts) in German.
Years 1-4 have been singing a song called "Oh wie siehst du aus?".  Here are the words in case you want to sing it again. (The tune is from "Do your ears hang low?").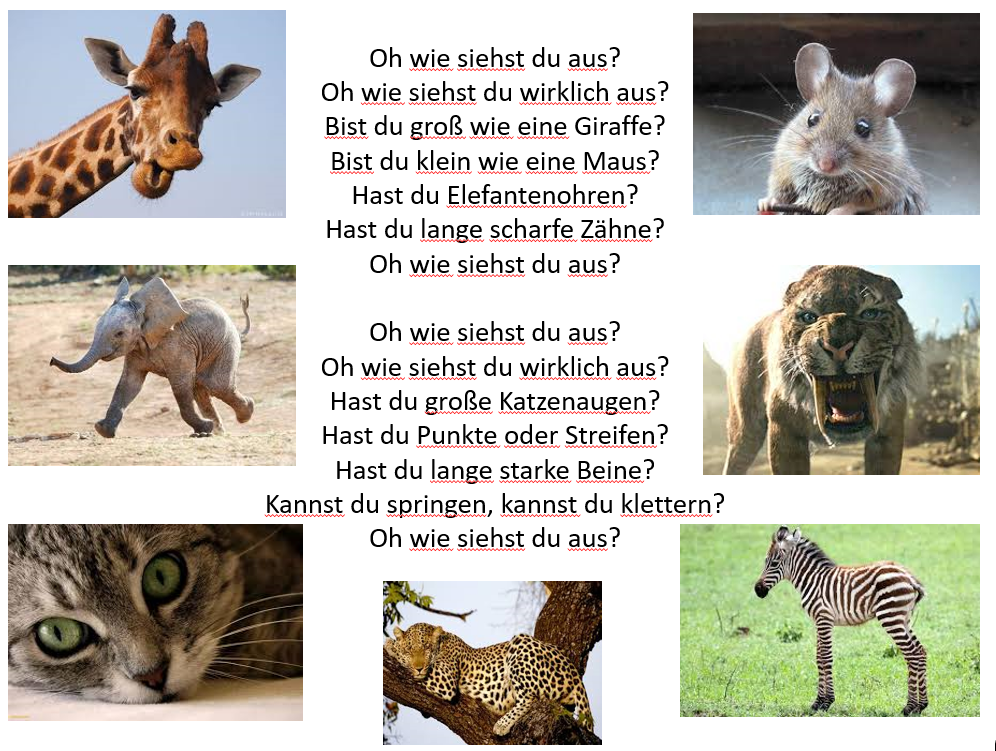 It is fantastic to see the children  making links with their previous learning– they noticed the use of the word "wie", that they had seen in Das Fliegerlied- the carnival song, and remembered that it can mean how, like or as.
Today children in Years 3 and 4 have finished drawing pictures of themselves and writing whole sentences describing their appearance.  They have chosen the correct verbs and adjectives and have been carefully checking their spellings of some tricky words (like Haare, meaning hair, it looks a bit odd with two A's, doesn't it?), and making sure they use capital letters for all German nouns.  In the next couple of weeks we will be playing "Guess Who?" in German!
Pictures of their amazing work to follow soon- watch this space!
Year 5 and 6 missed a few German lessons due to bank holidays,  but have done really well in the last two weeks finding out about refugees from Syria who have made their way to safety in Germany.
The link  to the German film we watched is here:
http://www.wdrmaus.de/filme/sachgeschichten/fluechtlingskind_tiba_teil1.php5