Unfortunately, we are currently unable to offer any tours of our school due to Covid restrictions. Please find below a video and Powerpoint providing new starter information for prospective parents. We hope it will give you an important insight into school life at St Oswald's CE Primary School and give you a sense of our school ethos.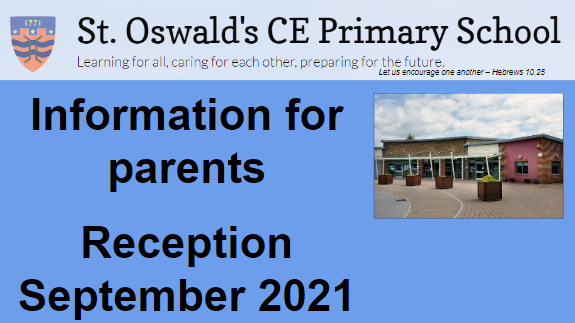 Our admissions arrangements are set by City of York Council as the admissions authority for our school. Details of the admissions policies and a range of related information that applies can be found here. For any queries about the admissions policy or process you can email education@york.gov.uk or call 01904 551554.
Will your child start reception in September 2021?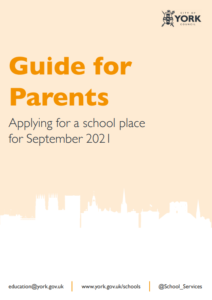 You should apply for your child to start primary or infant school by the 15th of January in the school year your child turns 4. For entry in the September 2021 school year, children will have been born between 1st September 2016 and 31st August 2017 and you can now start your application. Applications for children who were born between 1st September 2017 and 31st August 2018 can be made only from the Autumn of 2021.
Please read the Guide for Parents when applying for a school place, as it contains key information on school admissions. You can also find the Guide to School Catchment Areas online. We would advise you to keep checking on the City of York Council Admissions site to keep updated with key dates throughout the year.
CLICK HERE TO APPLY FOR A PRIMARY SCHOOL PLACE ONLINE
With an online application you will receive an email confirming submission of your application and the ability to view your application and results online at a later date. Please remember to submit your application by the closing date. If you can't apply online you can request a paper Primary Application Form by calling 01904 551 554.
You need to ensure that you have applied, either online (and submitted your application), or by returning a Primary Application Form by the deadline of 15th January 2021. If you do not apply by this date your application may be dealt with after all the other applications that were received on or before the application deadline which means you will stand less chance of getting your preferred school. National Offer Day, when families are informed where their child has been allocated a place, is in April; those applicants that applied online will receive emails from around 10am on the morning of 16th April 2021 and other applicants will receive allocation letters in the post from 16 April.
Click here to find a poster to help you and your child to prepare for school.