I am delighted that you are interested in sending your child to St Oswald's CE Primary School. We are very proud of our inclusive happy school, and we would love to meet you and show you our Early Years classrooms. We are offering parents the opportunity to book onto one of 4 sessions:
Monday 6th December at 3.45pm
Monday 6th December at 4.30pm
Tuesday 7th December at 3.45pm
Tuesday 7th December at 4.30pm
We need to limit the number of visitors to keep everyone safe, so we are offering a place to one adult per family. Unfortunately, we don't feel that it is safe to invite children into our school at this stage, but we hope that we will be able to offer a full range of transition opportunities next year before children join us. You can book a place at one of the visits by calling our office on 01904 555421.
In the meantime, I hope that our short video below will give you a glimpse into life at St Oswald's CE Primary School.
We have also put together this information to try and answer any questions you may have. If there is something that we have forgotten, and you are not able to attend one of the scheduled visits to school, please message us at stoswalds.primary@york.gov.uk and we will try to answer your query.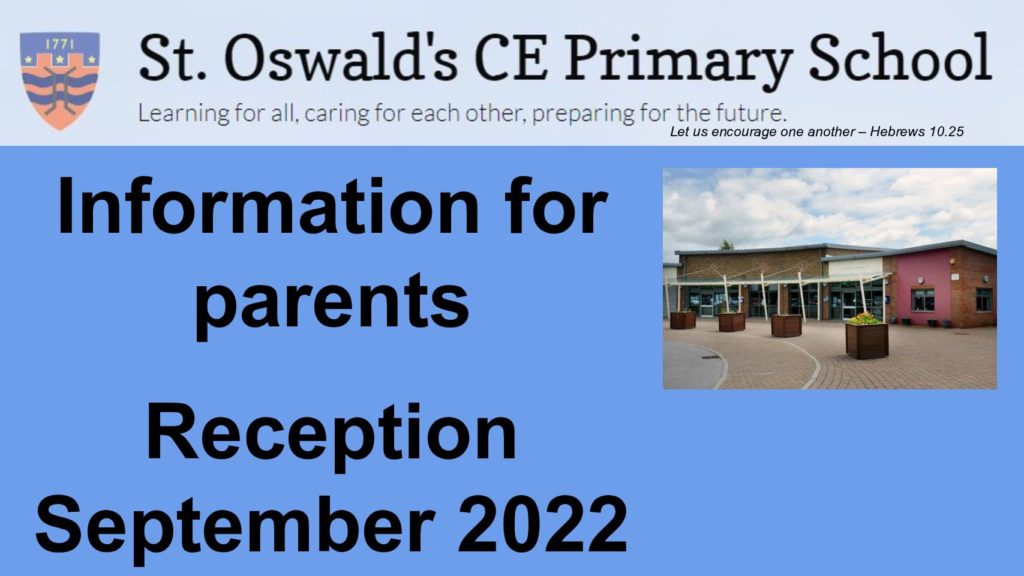 Will your child start reception in September 2022?
For entry in the September 2022 school year, children will have been born between 1st September 2017 and 31st August 2018. Applications for children who were born between 1st September 2018 and 31st August 2019 can be made from the Autumn of 2022.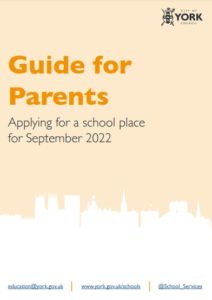 You can apply online at www.york.gov.uk/schooladmissions from 12th September 2021. With an online application you will receive an email confirming submission of your application and the ability to view your application and results online at a later date. Please remember to submit your application by the closing date. If you can't apply online you can request a paper Primary Application Form by calling 01904 551554.
The deadline for submitting applications for a place in Reception starting in September 2022 is the 15th January 2022.
Please read the Guide for Parents when applying for a school place, as it contains key information on school admissions. You can also find the Guide to School Catchment Areas online. We would advise you to keep checking on the City of York Council Admissions site to keep updated with key dates throughout the year.
CLICK HERE TO APPLY FOR A PRIMARY SCHOOL PLACE ONLINE
You need to ensure that you have applied, either online (and submitted your application), or by returning a Primary Application Form, by the deadline of 15th January 2021. If you do not apply by this date your application may be dealt with after all the other applications that were received on or before the application deadline which means you will stand less chance of getting your preferred school. National Offer Day, when families are informed where their child has been allocated a place, is in April; those applicants that applied online will receive emails from around 10am on the morning of 16th April 2021 and other applicants will receive allocation letters in the post from 16 April.
Click here to find a poster to help you and your child to prepare for school.