Statement of Intent
At St Oswald's C of E Primary school we provide a purposeful, engaging History curriculum designed to inspire curiosity and develop pupil's historical knowledge and skill. Our aim is to equip all pupils with a deeper understanding of themselves and the world around them. Our approach provides all children, including those who are vulnerable, the opportunity to flourish and achieve, become curious about the past, and develop an understanding of the present in light of the past. Through our curriculum, with the depth of historical knowledge and range of historical disciplinary skills taught, we aim to enhance pupils' cultural, spiritual, social and moral development, allowing them to leave St Oswalds as well rounded and confident individuals who are prepared for life in modern, multicultural Britain. We aim to equip all children with the ability to think critically about history, asking perceptive questions, weigh evidence and develop their own perspective and judgement. We aim to help pupils to understand the complexity of people's lives, the process of change, the diversity of societies and relationships between different groups, as well as their own identity and the challenges of modern Britain.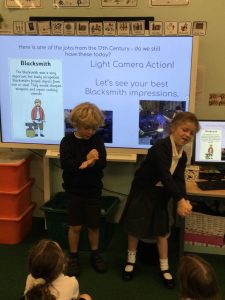 Implementation
History is taught in blocks throughout the year so that children achieve depth within their learning. Teachers have identified key topics and consideration has been given to ensure that children leave St Oswald's with clear in-depth knowledge of key individuals, civilizations and time periods. We aim to develop an understanding of the rich history of their own locality, and the important role York has played in British History. Children are taught about key events and significant individuals throughout British History, (Florence Nightingale, Great Fire of London, World Wars, Invasions of Britain and Kings and Queens) as well as European and wider world history (Vikings, Mayans) and the ancient civilizations of Greece, Egypt. Planning is informed by and aligned with the national curriculum.
Through carefully sequenced planning we aim to develop and build upon previous knowledge, ensuring "sticky knowledge" of key concepts are revisited throughout the pupil's time at St Oswald's. Our progression of skills in History ensures that a clear structure for children's learning, from EYFS to Y6, and is followed over 5 key areas: chronological understanding, a range and depth of historical knowledge, interpretations of history, historical enquiry and organisation and communication of ideas. Each topic has a range of tier 2 and 3 specific vocabulary to ensure that children understand key abstract terms such as "empire" "civilisation" and "parliament". Pupils are given chronological context to the historical topic they are learning, enabling them to develop a clear chronological narrative of History. Through the use of interactive lessons, all children are immersed into rich learning environments enabling them to relate History to their own experiences and provides opportunities for deeper questioning and understanding for greater depth. History is also planned cross curricular, with strong Literacy links, enabling further contextual learning. St Oswald's is committed to ensuring children have an exposure to regular visitors and school trips to further develop curiosity and understanding of topics. Outcomes are monitored through teacher assessment to ensure children reflect a strong understanding of the key identified knowledge and opportunities are given for pupils to evidence, evaluate and challenge historical ideas, developing their skills in Historical enquiry.
Impact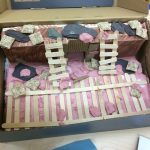 Learning History at St Oswald's is a knowledge rich, immersive and enjoyable experience, with children developing a keen interest and understanding of History. This can be seen throughout school, from pupil voice, understanding of Historical concepts and in topic and literacy books. Through our high quality History education, we help the children to develop a sense of identity and a cultural understanding based on their historical heritage. Helping children to understand the process of change, the diversity of society and the complexities of people's lives, we are equipping them to better understand and appreciate modern day multicultural Britain and its place in the world. Through the skills they learn in history, and with their knowledge of how people lived in the past, they are better prepared for their future.
An Immersive Curriculum
When we study History at St Oswald's, we immerse ourselves in learning about life during that period of time. From studying London during the Great Fire of London to learning about the legacy that the Romans left behind, we develop a real love of the History curriculum. We use opportunities to such as dress up days and visitors to become part of that period of time during those eras. Keep an eye out on our half termly updates on our phases to see some of these days in action!