Statement of Intent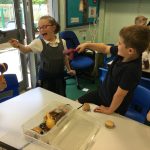 At St Oswald's CE Primary School, we strive to foster a curiosity and love of music that will remain with our pupils for the rest of their lives. Following the requirements of the National Curriculum, our teaching provides a broad, balanced and differentiated approach to allow every child to develop their musical potential. Fundamental musical skills, vocabulary and knowledge are developed across the school through singing, playing, listening, appraising, composing and performing a diverse range of pieces from historical periods, cultural contexts and musical genres so that our pupils move into secondary education as musicians.

Music sits at the heart of our school community, forming an integral part of the daily routine,
including our collective worship, cross-curricular lessons and the many special events in our school
calendar. We teach our pupils to always encourage one another and to be proud of their own
musical achievements, and we regularly welcome peers, parents, staff and the local community to
share and support their endeavours.

As a result of our music curriculum, we want our children to:
● Develop a love and appreciation of music, making judgements and expressing their own
personal preferences about the style and quality of music.
● Listen to, review and evaluate music across a range of genres, styles and historical periods.
● Create and compose music both individually and collaboratively.
● Develop an ability to understand rhythm, structure and organisation.
● Be given opportunities to play a wide variety of instruments.
● Read and write musical notation.
● Have knowledge of and use a range of musical vocabulary to discuss music.
● Sing in tune using voices to create different effects.
● Take part in performances confidently with an awareness of the audience.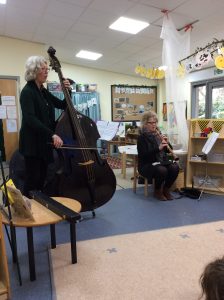 Implementation
Our music curriculum ensures that pupils are exposed to a wide range of musical styles, genres and instruments in a practical and engaging manner. There is a clear progression of skills as children move through the school, allowing them to develop musical vocabulary and build proficiency and confidence in playing and singing. This structured programme includes high quality class teaching, weekly singing through whole school worship, regular concerts and performances, musical clubs and teaching from specialist music teachers.

The Golden Threads of Music:
1) Understanding musical context
The Charanga scheme is used creatively by teachers to complement topic work within our two-year rolling curriculum. This cross-curricular approach brings topic work to life and gives children an understanding of the development and importance of music throughout time and across cultures.
2) Listening and appraising
Throughout all units of work, children are taught to actively listen to and evaluate their own
responses to pieces of music, with an emphasis placed on musical vocabulary. Our new initiative, 'St
Oswald's 10 Pieces of Classical Music', introduces children to ten renowned classical composers.
3) Singing
Singing sits at the heart of our music curriculum and is celebrated through regular performances
from each phase. Pupils in Key Stage Two also have the opportunity to join our vibrant school choir
of over 60 children, who perform regularly at various community events as well as at the annual
Young Voices concert in Sheffield.
4) Playing musical instruments
Although we are proud of the range of musical instruments we have available for classroom use, we
have chosen to focus on a select few to ensure that children develop their skills in a gradual and
meaningful way. Untuned percussion gives our youngest children the opportunity to experiment
with different rhythms before progressing on to the glockenspiel in Key Stage 1 and recorder in
Key Stage 2. As well as this, children have the chance to play the African drums, gamelan and
ukulele within their time at St Oswald's.
Children are also given the valuable opportunity to have 1:1 tuition from peripatetic music teachers
and many go on to take examinations in their chosen instrument. Current lessons include woodwind,
brass, guitar and keyboard tuition. Children in Year 4 and 5 also have the opportunity to be part of
our lunchtime Recorder Club.
5) Improvising and composing
We want our children to move forward into secondary schools as musicians, which means teaching
them the skills of improvising and composing their own music. This is facilitated through singing,
rap, beatboxing and musical soundscapes as well as with tuned instruments.
6) Performing
Every child is given numerous opportunities to share their talents with friends, family and the
wider community. Examples range from talent shows, solo performances and phase productions to
regular events in collaboration with St Oswald's Church that celebrate the school's Christian ethos.
These are hugely special occasions in the school calendar, and give pupils the invitation to explore
their own spirituality through the medium of music.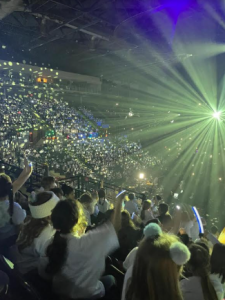 Impact
Our music curriculum aims to serve our school vision by enabling all pupils to reach their full potential and to nurture an appreciation for music that will help them to develop socially, spiritually and emotionally. Children are assessed formatively by teachers according to age related expectations in line with curriculum requirements, and summative assessments are gathered and evaluated annually. The impact of this curriculum is continuously monitored by subject leaders through pupil interviews, observations of performances and work scrutinies, directing continuous
evolution of the curriculum.
Over time, we hope that our children will have built a widened repertoire of music that is deeply personal to them and that they can use to create original, imaginative compositions and performances. It is our intent that all pupils move into secondary education equipped with the foundation skills, vocabulary and experience for further study of the subject and a broad range of
interests to pursue and explore.
Extra-Curricular Opportunities
As a school, we participate in a variety of different extra-curricular activities that link to music. Some of these clubs are led by school staff and others by external visitors. This provides our children with a variety of opportunities to find a love of music and the chance to play different instruments.
Visit our 'Extra-Curricular Activities' page to find out what is on offer this term!