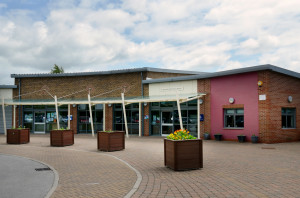 St Oswald's CE Primary School is a Church of England school. We are very lucky to have a wonderful building that was completed in 2006 with spacious learning environments including a art room, music room and a brand new ICT suite and library. We also have extensive grounds and we love our next door neighbour…the library! Fulford Pre-School also shares the site providing Early Years education for children aged 2 to 5 years old.
We have approximately 300 pupils on roll aged 4 to 11. Our catchment area includes much of Fulford and the surrounding area and many children from service families based at the nearby barracks choose St Oswald's as their school. There are 2 classes in reception who share an outdoor area – we love to get out whatever the weather! We then have three Year 1 and 2 classes, three Year 3 and 4 classes and three further Year 5 and 6 classes. All of these classes are taught in mixed year groups which allows us to differentiate learning towards every child's needs and abilities rather than their age group. It also helps to build a strong and cohesive teaching team.
One of our many strengths as a school is our Creative Curriculum which supports our children's learning through 'well thought out learning activities based upon exciting introductions to topics' (Ofsted 2013).