Our topic this half term is
Here Come the Vikings!
We started our year off with some vicious looking teachers on our Stunning Start Day when we introduced our Viking topic. We're looking forward to finding out about where the Vikings came from, their beliefs, how and where they lived and lots more. Later on this half term we will be visiting the Jorvik Centre and the DIG to further our understanding of Viking life. To see what we have learnt, please watch our 'What we have been learning' slides at the end of the term.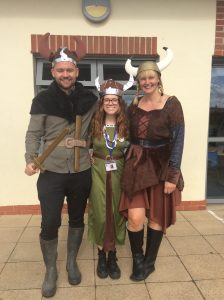 Year 3/4 Information
What to bring to school each day
Please make sure you all have a named water bottle, coat, jumper and your PE kit in school every day. Whenever possible, PE will take place outside, so it is important that you have enough warm clothes and trainers in your PE kit and tape to cover up any earrings that cannot be removed. PE days will usually be on Tuesdays and Fridays but may occasionally be on other days too. The children can keep their water bottles in the classroom and water will be provided at lunchtime.
Homework
Reading
Please make sure an adult puts a note in your planner each time you read at home. You can change your book as often as you need to from the bookshelves in the Y3/4 corridor. Owl stamps will be given each time you have read at least three times a week and your planner will be checked at least once a week by an adult at school.
Spellings
Spelling lists get given out at the beginning of each half term and you will have a spelling test every Monday. Each week you will record how you have got on with your spelling test in your planner.
Maths
Maths homework will be given out at the beginning of each week, on either a Monday or Tuesday, and will need to be returned to school by the following Monday.
Home Learning Journals
More information will follow shortly about additional homework projects related to our topic. There will be an expectation for at least one of these projects to be completed each term, but you can choose to do as many as you like.
Lost property
We had a huge amount of lost property left last year, so please make sure all items of clothing and PE kit is named, including trainers and pumps, jumpers and cardigans.
Some useful websites that may help you support your children with their learning are: