St Oswalds home learning agreement – chromebooks

We hope you have all managed to have a relaxing summer, even though it may have been a little different to the one you were expecting. It has been so lovely to be able to welcome you all back to school this week.
The children have astonished us with how well they have adapted to all the changes in school and settled into their new classes and routines so willingly. We wanted to take the opportunity to explain to you how we are striving to keep ourselves safe but still delivering a broad and exciting curriculum to all of our children in Year 3 and 4.
Here Come the Vikings!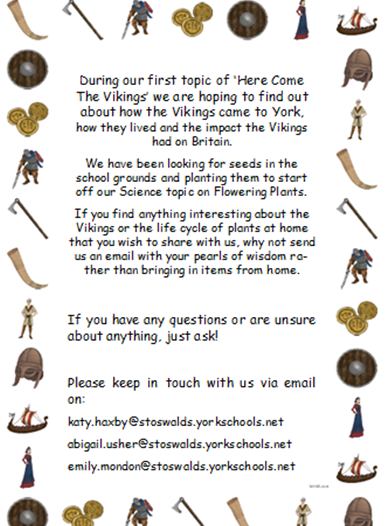 Year 3/4 Information
We will not be sending the Home Learning Journals home this term. Instead, we are concentrating on reading, writing and maths homework.
The children are encouraged to read as often as possible at home and parents to write in planners each time they have read. If the children have read three times or more that week, they get an Owl stamp.
Maths homework and weekly spellings will be sent home shortly. All children will be given a week to do their homework and return their maths sheets to school for the following Monday.
Spellings will also be checked on a Monday. In addition to the spelling pattern for that week, your child may have some topic words or high frequency words added to their list. We will not test every word on their list each week, but the children should know how to spell them all and understand the meaning of the words. We will be teaching the children to practise their spelling words by writing them in a sentence to help with handwriting.
The children can keep their water bottles in the classroom and water will be provided at lunchtime.